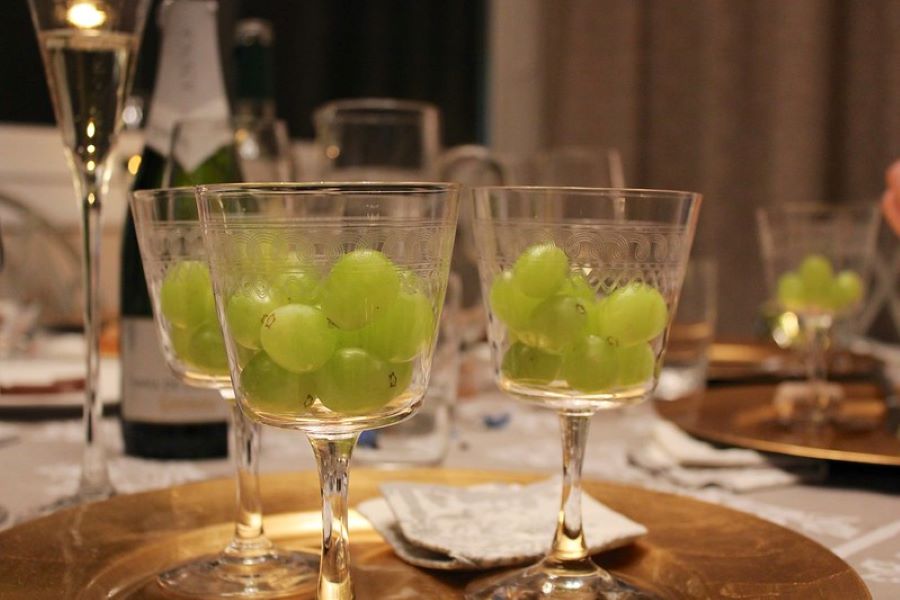 Credit: Flickr / Chris Oakley / CC BY 2.0
Alicante is a fantastic place to celebrate Nochevieja (New Year's Eve). It is one of the best places in Spain to enjoy the midnight celebrations with spectacular fireworks, drum bands and lots of entertainment. Also, this is the best time to see and know about Spanish festive traditions that are followed throughout Spain. So if you're travelling to this city of Spain, then do try out these unique New Year's Eve traditions!
Spanish Lucky Grapes
As the clock slowly ticks down to midnight on New Year's Eve, Spaniards have a tradition to eat 12 grapes in 12 seconds as the clock bells mark the final twelve hours of the year! People of Spain believe that eating one grape will bring good luck for every month of the future year, thus eating 12 will bring good luck for the entire year. It is definitely amusing seeing people-mouth full of grapes! So, if you're in Alicante get yourself 12 grapes and have fun all while drinking and dancing the night away or watching the amazing fireworks.
Red Underwear on New Year's Eve
Make sure you ring in the New Year wearing red underwear if your New Year's resolution is to fall in love this year. Also, it is believed that wearing red under anything on New Year will bring you luck for the entire year. You'll see in most markets or stores in Alicante will be selling these throughout the festive season as Spaniards also believe that red is the symbol of life during the dark months of winter.
Gold And A Glass Of Cava
To bring good fortune for the coming year, Spaniards drop any gold item into their glass of Cava before the midnight toast. From gold coins to gold wedding rings, it all goes in the Cava which has to be finished after the midnight toast to get good luck. However, those who are looking for love they drop either a strawberry, cherry or raspberry in their drink. So, it entirely depends on what kind of New Year is being wished.
Museo De Belenes
The Museo de Belenes (Museum of Nativity Scenes) is located in the old town of Alicante. In keeping with Spanish ritual, every Spanish house displays a nativity scene to honour the Three King's arrival. The entry is free in this museum and you can explore the history behind the artistry used to create these great scenes.