Alicante Beaches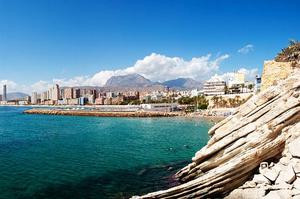 The charm of a coastal city is all about its beaches, and when it comes to Alicante, the beaches speak for themselves. They feature golden sands, crystal-clear waters, and a delightful climate, and they proudly hold the Blue Flag, an award from the European Union.
Alicante province boasts a stunning coastline stretching over 200 km (125 miles). Almost all beaches in Alicante offer exciting water sports such as kayaking, slides, and surfing. Keep reading to learn more about some of the most beautiful and trendy beaches in and around the city of Alicante.
Pixabay/cascalheira

Levante Beach (Playa de Levante)

Levante Beach, located in Benidorm just a 30-minute drive from Alicante, is a bustling spot for fun-seekers. Also known as Sunrise Beach, it offers a wide range of activities, such as diving boards, swinging bridges, rafts, slides, and a playground for kids, all supervised by well-trained lifeguards. People of all ages, from kids to young adults, flock to this beach.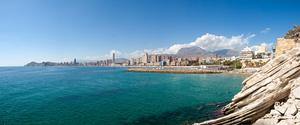 Levante Beach
The ever popular Levante Beach located in Benidorm which is just 30 mins drive from Alicante, is a hot spot for the people who are out to have some fun. It is also known as the Sunrise beach and offers innumerable activities such as diving boards, swinging bridges, rafts, slides, a playground for the kids along with well equipped lifeguards. The beach is frequented by people of all age groups right from the kids to the younger crowd.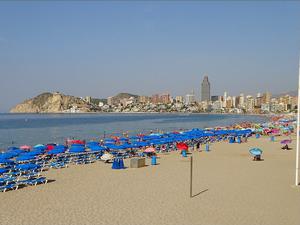 Poniente Beach (Playa de Poniente)
Situated to the west of Levante Beach in Benidorm, Poniente Beach boasts golden sands and is perfect for leisurely walks, sunbathing, and swimming. The beach is equipped with amenities like sunbeds and safety gear, showers, safeguards etc. It is one of the most popular beaches in the province.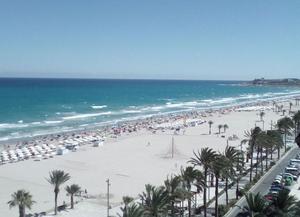 PD Photo

San Juan Beach (Playa de San Juan)
Located approximately 7 km (4.5 miles) from central Alicante, San Juan Beach is one of the busiest in the area and proudly holds the Blue Flag of the European Union. During the summer, it's a favourite destination for sun-loving tourists who enjoy water sports and sunbathing. You'll find a variety of shops, bars, cafes, restaurants, and water sports activities on the beach.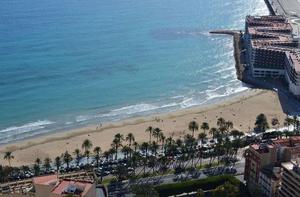 Postiguet beach (Playa del Postiguet)
Nestled at the foot of the magnificent Castillo de Santa Barbara, Postiguet Beach is not only surrounded by palm trees, making it exceptionally beautiful, but it is also conveniently located in the city centre. The beach is one of the most famous beaches in Alicante. The public transportation options like buses and trams make Postiguet Beach easily accessible. Near the coastal railway between Alicante and Denia, there's also a strip of beach named Playa del Coco.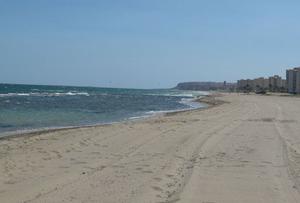 PD Photo

Saladares - Urbanova Beach (Playa de los Saladares)
Saladares-Urbanova Beach is one of the longest beaches on Alicante's southern coastline. Located in a residential area, it remains relatively uncrowded, providing a peaceful environment for relaxation. Tourist services include lifeguard patrols, watchtowers, toilets, foot showers, and parking facilities. It proudly holds the Blue Flag from the European Union.

Del Coco Beach (Playa del Coco)
Del Coco Beach is a small and tranquil spot along Alicante's coastline. It was historically used by the city's fishermen as a landing point for their catches. The peaceful harbour here offers a serene setting to admire the sea.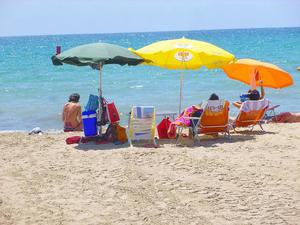 PD Photo

Albufereta Beach (Playa de la Albufereta)
To the northwest of Alicante lies Albufereta Beach, situated in a residential area and popular among tourists during the summer season. Beach services are available during Holy Week and the peak summer season, including lifeguards, a Red Cross post, watchtowers, foot showers, toilets, and parking facilities. The beach is easily accessible by car, bus or train. Nearby, you'll also find the noteworthy Almadraba Beach.
Recommended Activities