Alicante Geography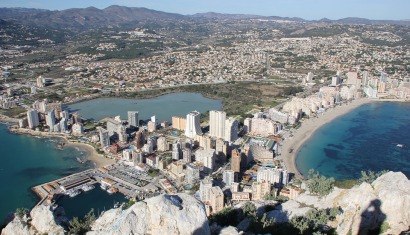 The city of Alicante is geographically located in Spain, which is situated in the southwest part of Europe. Spain is bordered by many countries such as Portugal and France. However, it still has a large coastline which plays a significant role in attracting millions of tourists every year.
38° 20′ 43″N, 000° 28′ 59″W
The Costa Blanca is one of the main coastal regions in Spain, which is very popular with holidaymakers and here is where the well-admired destination of Alicante exists. The city of Alicante draws many tourists, especially from Europe, who want to explore its historical sites, its modern facilities and glorious beaches.
The province of Alicante lies in the south-east region of Spain and it the second-largest city in the Autonomous Community of Valencia. Alicante is bordered by Valencia in the north, Murcia in the south, Albacete in the west and finally the Mediterranean Sea to the east. The city of Alicante is located on the coastline between the towns of Benidorm and Elche.
Alicante has a very mountainous landscape in the north and west regions although the south is fairly flat, with the Segura River flowing eastwards through the province.
The province of Alicante comprises of two main areas, the Upper Marina and Lower marina. The Upper marina includes towns such as Calpe, Teulada and Javea. The Lower Marina which centres around Benidorm includes towns such as Altea and Villajoyosa. Towns in the inland area include Elche, Movelda and Aspe and the maritime towns in the southern area include Torrevieja and Guardamar.
The most popular beach visited by holidaymakers, and frequently referred to as being one of the best beaches in Spain, is San Juan, which is located by the city of Alicante.


Climate
Alicante enjoys a mild climate all year round. The city benefits from around 2,800 hours of sunshine with an average temperature of 19.3ºC. With fresh air and sunny days, Alicante is an ideal place to visit all year round. As it enjoys more sunshine, the number of rainy days is limited to just 20 per year. Even during the wintertime, the temperature does not fall below 16° C. The best time to visit Alicante is between May and October as the weather is warm and sunny. The temperature can get as high as 40°C in August so pack some extra sun lotion! Alicante has a time difference of GMT + 1 hour and GMT +2 hours during the summer.
Population
The population in the city of Alicante stands at 331,750 (2008) with roughly 750,000 inhabitants covering the whole province of Alicante. Around 18% of the population is foreign, including many foreigners from Northern Europe, and more predominately people from the United Kingdom, who have opted for an easy-going lifestyle and better weather.
Recommended Activities